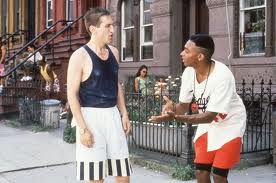 Vito Frangione is a character in the film Do the Right Thing, portrayed by Richard Edson. He is one of Sal's sons, younger brother of Pino and a friend of Mookie's.

He is first seen when he, his father and his brother arrive in the neighborhood in a car to open up Sal's Pizzeria. When Sal tells Pino to sweep out front, Pinto tells Vito to do it, who can't hear him over his Walkman. Vito complains how everytime Sal tells Pino what to do, Pino tells Vito to do it.
Vito works for his father, making pizza, like the rest of the family. When Vito is on his break and hangs out with Mookie when delivering a pizza to Senor Love Daddy, Mookie says to him how he should try hitting Pino. When leaving the radio station, they briefly talk about baseball until Buggin' Out comes by, who is annoyed about Mookie hanging around Vito because he's white. Mookie tells Buggin' Out how "Vito's down" and they go back to the pizzeria. When confronting Pino, Mookie tells Vito to "smack him!" Pino holds Vito and tells him how his name is not "Vito Muhammad," and then tells Mookie to stop putting thoughts in Vito's head.
At nightfall, Pino takes Vito to the pantry and has a fight with him. Pino tells Vito how Mookie and all other black people can't be trusted. Vito says how Mookie listens to him and Pino doesn't and leaves the pantry.
After Sal breaks Radio Raheem's boom box and they fight, Vito and Pino try to help Sal in the fight, so they're fighting against Cee, Punchy, Ahmad and try to get Radio Raheem off Sal. When the riot begins and the people rush into the pizzeria and destroys everything, Da Mayor takes them to the front door of a house. They all look at the pizzeria burning down and Vito and Pino are not seen again after this.