We're Getting Mutants in the MCU - The Loop
Play Sound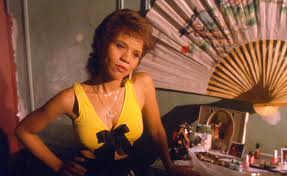 Tina is one of the characters in the film Do the Right Thing. She is a Puerto Rican woman portrayed by Rosie Perez. She is Mookie's girlfriend and the mother of his child Hector.

She is the first person shown in the film, street dancing to the opening credits. In the film, she lives with her mother and Hector, and argues with her as her mother refuses to babysit Hector. She says to Hector how her mother makes her sick. She also says how Mookie makes her sick too, calling him a "bum."
When it's noon, she's part of the sequence where people cool off. Tina has her head under a sink full of ice and water.
Mookie dedicates a record to her from Senor Love Daddy's radio station. She talks to him on the phone, asking Mookie to see her.
When Mookie delivers a pizza to her later in the film, she's annoyed that he forgot the ice cream. Mokie initially wants to have sex with her, but Tina refuses as she thinks it's too hot. Mookie complains on how Tina curses a lot, saying what kind of mother she is using that language. So Mookie improvises and tells Tina to take off her clothes. Mookie then gets some ice cubes from her kitchen and rubs it all over Tina, saying: "Thank God..." to each parts of her body. She says it feels good, and Mookie keeps kissing her when he's about to leave.
Tina is apparently oblivious of the riot that pursued the day before.
The next day, Mookie wakes up from the bed Tina and Hector were also sleeping in. Mookie wants to get his money from Sal, but Tina thinks she won't see him for another week and argues with him. He says how he'll be right back and insults him.
Family:
Unnamed mother
Mookie [boyfriend]
Hector [son]
Jade [unofficial-sister-in-law]