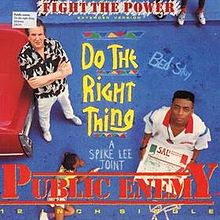 "Fight the Power" is a single by American hip hop group Public Enemy. First released on the soundtrack for the film 1989 Do the Right Thing, a different version was released on the group's third studio album, Fear of a Black Planet (1990). The single reached number one on Hot Rap Singles and number 20 on the Hot R&B Singles. It was named the best single of 1989 by The Village Voice in their Pazz & Jop critics' poll
In Do the Right Thing, it is heard being played by Radio Raheem's boom box about 15 times throughout the film. "Fight the Power" can also be heard in the opening credits.
Spike Lee directed the video for "Fight the Power".